BROWER™ Microblade Pen was created with a simple objective in mind, to create a tool that easily applies hair-looking strokes. Our pen features a unique fork-like brush which is used to create precise hair-looking strokes. It's not just some pencil or a liner, it's a safe and affordable alternative to the dying permanent eyebrow microblading industry.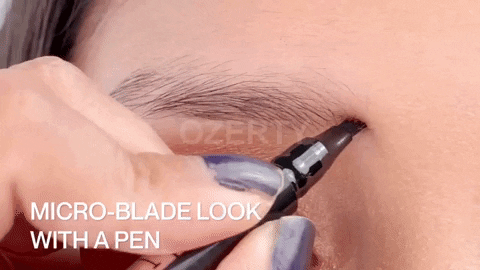 HAIR-LIKE STROKES
The original and official BROWER™ Microblade Eyebrow Pen. Our pens high-quality makeup fills in your eyebrows with natural-looking water-resistant hair-like strokes that last up to 24 hours.

PERFECT NATURAL COLORS
This pen is available in many natural colors including Ash Black, Dark Brown, Brown, Blonde, Grey, & Auburn!
BROWER™ Microblade Pen has transformed over 1,000,000 eyebrows without painful microblading or damaging dyes. This pen is great for thinning eyebrows, covering scars and unleashing the beauty and natural color of your brows.
EASY APPLICATION
Our pen is designed to have a very small learning curve. You don't have to be a makeup expert to get perfect brows. Just stroke the fork tip on your eyebrows and watch the magic happen.
WATERPROOF AND SMUDGE PROOF
Our unique formula lasts 24 hours and is water & smudge-proof.
EASILY REMOVEABLE
BROWER™ Microblade Pen can be easily removed with regular makeup wipes.