Simple, gentle, casual, vintage... This elegant lady clutch is just a catch!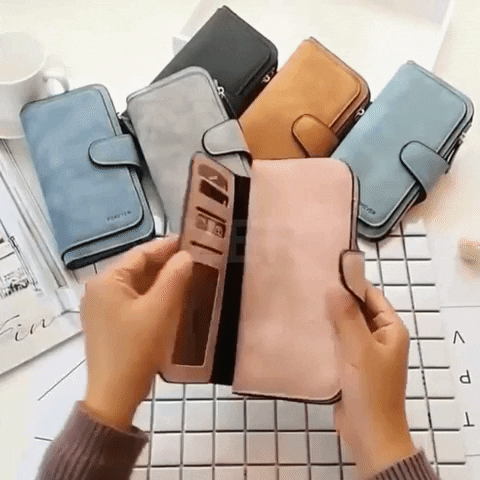 When you're going to the mall, do you carry around a lot of cash and cards? With the DAREO™ Long Wallet, you don't need to leave anything at home. This large and long design means you can fit this wallet into your bag and love bringing it out. You can choose from three fantastic colors. This includes blue, gray and brown. You can choose one to suit your personality!
This DAREO™ Long Wallett is made from high-quality faux leather. This means you can enjoy a contemporary and trendy design but it is animal-friendly and cruelty-free. You can enjoy the best of both worlds! Inside, you have a lot of space to organize your money and cards. This includes 14 credit card slots for your store and debit cards. There are four money slots for bills and they will even fit your checkbook. You can put loose coins into the zipper pouch to keep them safe. You can even enjoy having two window identification slots for your driver's license or photos. The wallet is held together securely with a magnetic button. You don't have to worry about any cash or cards falling out on the go.
So, what are you waiting for? If you need a new wallet, this could be the one for you. A modern faux leather design. With all those card, cash and identification slots, you no longer have to worry about leaving anything behind. 
Specification:
Material: PU leather
Strap Type: No Straps
Closure: Hasp, Zipper
Size(L * W * H): 7.08 * 0.98 * 3.93 Inches / 18 * 2.5 * 10 cm
Compatible Phone Screen: 4.7'' Inches
Structure: 14 * Cards Slot, 2 * Clear ID Windows, 5 * Cash Slots, Zipper Pocket