GET THE PERFECT LAWN!
Tired of seeing your lawn suffer from heavy traffic and irregularities? Lawns suffer from numerous passages.
You always go to the same places in the garden, your children play at a specific place, your dogs have their favorite corner.
And then you have to rely on moles and rodents that ventilate your land for its greatest benefit but in return damage your grass ...
GREENEO Grass Speed Sprayer is the simplest solution for owners of fine, bare or uneven lawns, with healthy and non-polluting products.
Thanks to our Sprayer, it regains its dense and uniform appearance, very green in spring. Wherever you have a parched or worn-out spot on your lawn, it gives back a lush effect very quickly and without leaving traces.
TRANSFORM DAMAGE LAWNS QUICKLY!
Thanks to its grass seeding and repair system, it transforms damaged lawns in record time into a magnificent green carpet! GREENEO Grass Speed Sprayer adapts to all garden hoses. You have your spray head and a refill provided, sufficient for 50 square meters of lawn.
You can also buy them individually for a large garden.
HEALTHY & POLLUTANT FREE PRODUCT!
The special formula of GREENEO Grass Speed Sprayer contains patented technology that promotes the growth of any lawn.
In just a few weeks, you will have thick, lush, green grass without pollutants. The GREENEO Grass Speed Sprayer leaves no trace on your lawn, your children will be able to roll in the grass as if nothing had happened.
Its application is easy, and for the maintenance of your lawn, you just need to attach it to any garden hose and spray it on the whole part of your lawn that needs to be repaired.
PROMOTE GRASS GROWTH
Its patented seed technology is a formula specially designed to promote the growth of any variety of grass. In just a few weeks, your lawn will be covered with thick, green and lush blades of grass!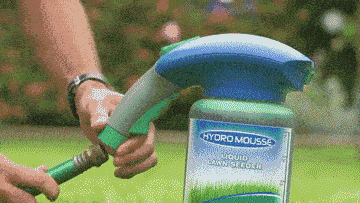 FEATURES:
Eco-friendly.

One bottle covers an area of ​​50m2.

Safe for dogs and other animals.

3 different spray settings: watering, light seed, strong seed.

Regular distribution of seeds.

Allows to sow and water simultaneously.

Ultra-simple to use.
HOW TO USE:
Put any lawn seeds in the sprayer can.

Add 5 ml of GREENEO Grass Speed Sprayer.

Attach the sprayer to any garden hose, and spray wherever you want.

The seeds, liquid and water will mix and propagate perfectly.
The GREENEO Grass Speed Sprayer refills are 59 ml. Sufficient for 50 square meters of lawn.
PACKAGE INCLUDES:
1 X Sprayer (spray head),

1 X Container.

1 X GREENEO Grass Speed Sprayer